Random Campsite
Carcans Plage Municipal Campsite
France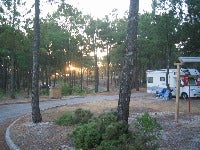 Full Details
Caravanning Chat Rooms
Caravan Chat

0 Members connected
2 Chat Rooms
0 members chatting

Chat Now
Accessibility

(increase text size)
What Do Caravan Dealers In Melbourne Believe Buyers Should Be Looking For?
Posted on: 09/07/2014 @ 03:20 am
When in the market for a new caravan, it is likely that you will visit a number of dealers to ensure that you have explored every avenue. Just looking at the vans on offer, however, is never enough to ensure that you are making the right choice Ė there are a number of things you should be looking for. But what do caravan dealers in Melbourne believe are the most important things to look for?
Weight It is of vital importance that buyers know the weight that their vehicle can tow and the weight of potential caravans before purchasing. Many dealers deal with buyers who have bought vans without first checking these specifications, only for them to later realise their tow vehicle cannot safely haul it and they try to return it.

buyers actually choose to purchase their caravan first and will then invest in a tow vehicle that is capable of hauling its weight. This way, they arenít limited to the type of van they can purchase and there will always be a vehicle to suit. Just make sure you are aware of the weight of your van before visiting car dealerships.

Travelling
It is also a good idea to consider the sort of travelling you will be doing in your caravan Ė will you only be driving on bitumen and parking in holiday parks or will you be doing some off-roading, too? This will help to narrow down the type of van you are looking at, as some are designed for on-road use only and others can handle off-road.


Storage
It is incredibly important that you have considered storage, both inside and outside of the caravan. You need to ensure that there is plenty of room to store all of the items that you plan on taking away with you, especially if they are large (like bicycles and surfboards). Look for clever hidden storage to avoid clutter.

Another issue that caravan dealers frequently run into is buyers who havenít considered where they will store the van once they get it home Ė make sure you have measured up your garage or carport or wherever you plan on storing the van to ensure that your purchase will fit. You donít want it to stick out or scrape its roof.
Whilst there are plenty of other things that you should consider when purchasing a new van, the three areas outlined above are the ones that caravan dealers in Melbourne experience the most problems with. Trying to return your van could pose all sorts of problems, especially if you have commissioned a custom one, so it is important to make the right choice in the beginning.
Last updated on 13/05/2015 @ 06:49 am